I don't know about you, but I have A LOT of cookbooks and food related books. I seem to be completely unable to resist them. Naturally, I have a soft spot for Mexican inspired ones. Sadly, good, authentic Mexican cooking books in English are hard to find. A lot of Tex-Mex inspired ones, but very little to excite me. So when I came across this little book called Paletas by Fany Gerson, about three or four years ago, I got very excited. At the time, I was a bit obssesed with ice-cream making, so naturaly, ice-pops came into my radar too. Mexicans eat a lot of icy treats, which is understandable when temperatures soar to 45 Celsius during the summer months. We like cold things, in fact, we love them!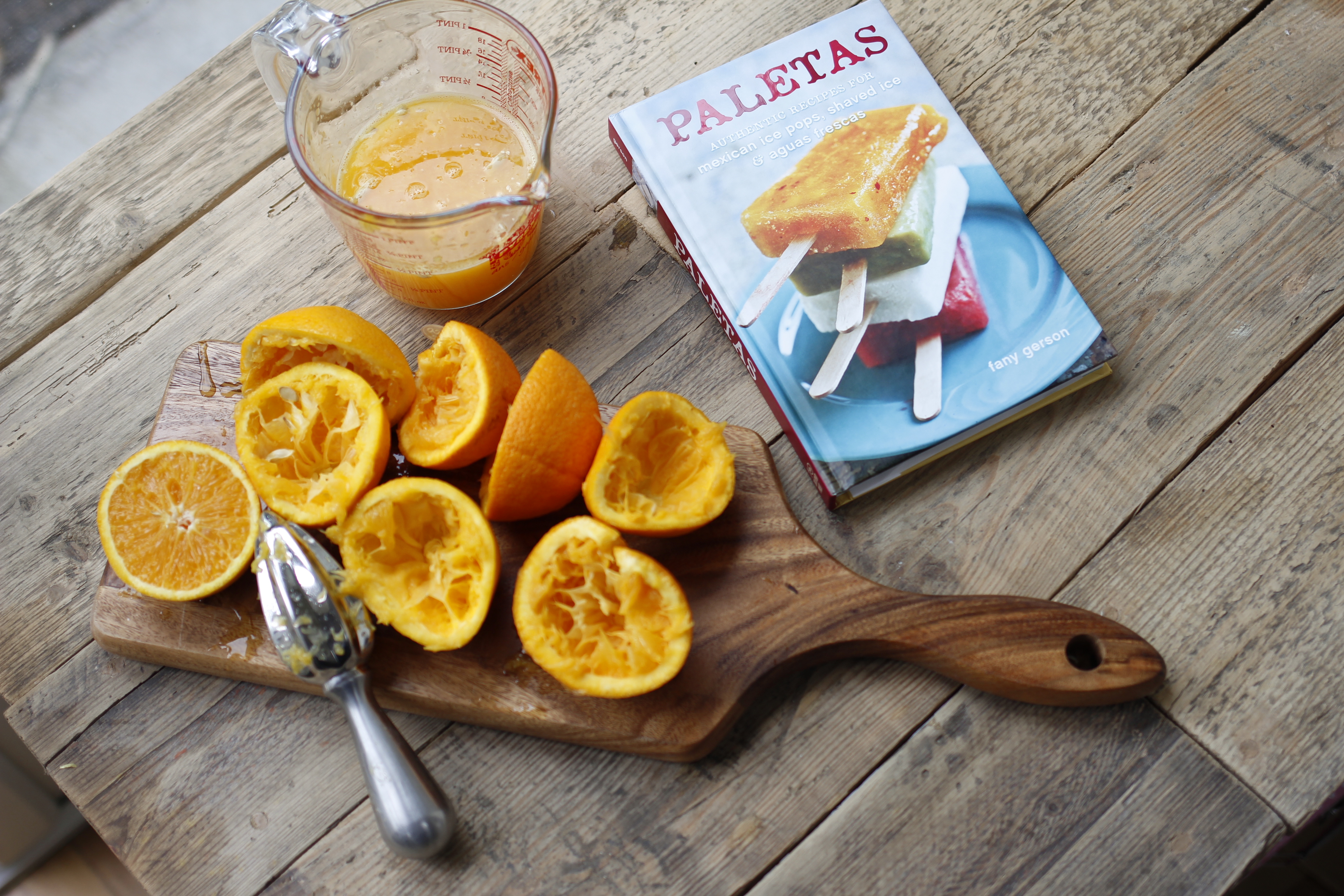 So when my lovely postman arrived with Paletas, I was a very happy Mexican. Ever since, I've used this book many, many times. It's full of delicious summer treats, which are perfect to use some of the fruit and berries I grow in my back garden. The book has recipes for paletas (ice-pops), raspados ( shaved ice) and aguas frescas (fruit juice and iced tea drinks). The recipes are easy to follow and quite simply delicious. It is the perfect summer read.
In my many experimentations throughout the years, I've had pretty bad luck with ice-pop molds, I always end up with broken ice-pops or lose sticks! Last week, I treated myself to a set of Zoku Fish Pop Molds and it so happens that a friend gifted me some more traditional molds too, so it was the perfect time to try the book's recipe for Paletas de Donaji, which is an orange and mezcal ice-pop inspired by a cocktail from Oaxaca made with orange juice and mezcal. I only tweaked the recipe a tiny bit, as I wanted to try and use chilli and lime powder rather than salt and chilli powder as it is suggested in the book.
To make sure I didn't end up with broken pops, I froze them overnight; sadly, my Zoku fish pop molds only partially delivered. Two pops broke while taking them out, yet the ones that did come out clean looked quite cute. Funny enough, I had better luck with the traditional molds, which yielded pretty looking pops. Flavourwise, the results were pretty spectacular, this tangy, vibrant orange pop has a lovely kick from the mezcal and the addition of chili and lime powder worked a treat! Totally recommend them. The book is so worth having and you'll get tons out of it. Great buy.
1
Combine the water and sugar in a pot and turn the heat on to medium-high. Stir it continuously until it boils and the sugar dissolves. Remove it from the heat and transfer it to a large jug; set aside and let it cool down to room temperature.
2
2
Add the orange juice to the cooled down sugar syrup and stir well; follow by adding the lime juice and the mezcal and mix well.
122
3
Pour the mixture into ice-pop molds and freeze for 5 hours or until solid frozen. If you are using unconventional moulds, freeze until the pops are beginning to set, about 2 hours, and then insert the sticks. Freeze for further 4 hours. I prefer to freeze them overnight.
22
4
When you are ready to serve them, put the chili and lime powder on a plate; de-mold the ice-pops and dip their tips into the chili & lime powder.
22
We loved these pops. They were so tasty and quite a grown up treat. The cocktail mixture is pretty dam good too so if all fails, you can always add frappe ice and enjoy it a s a cocktail!